Raum - Zeit - Animationen und Illustrationen
mit Odile und Dietmar Öhlmann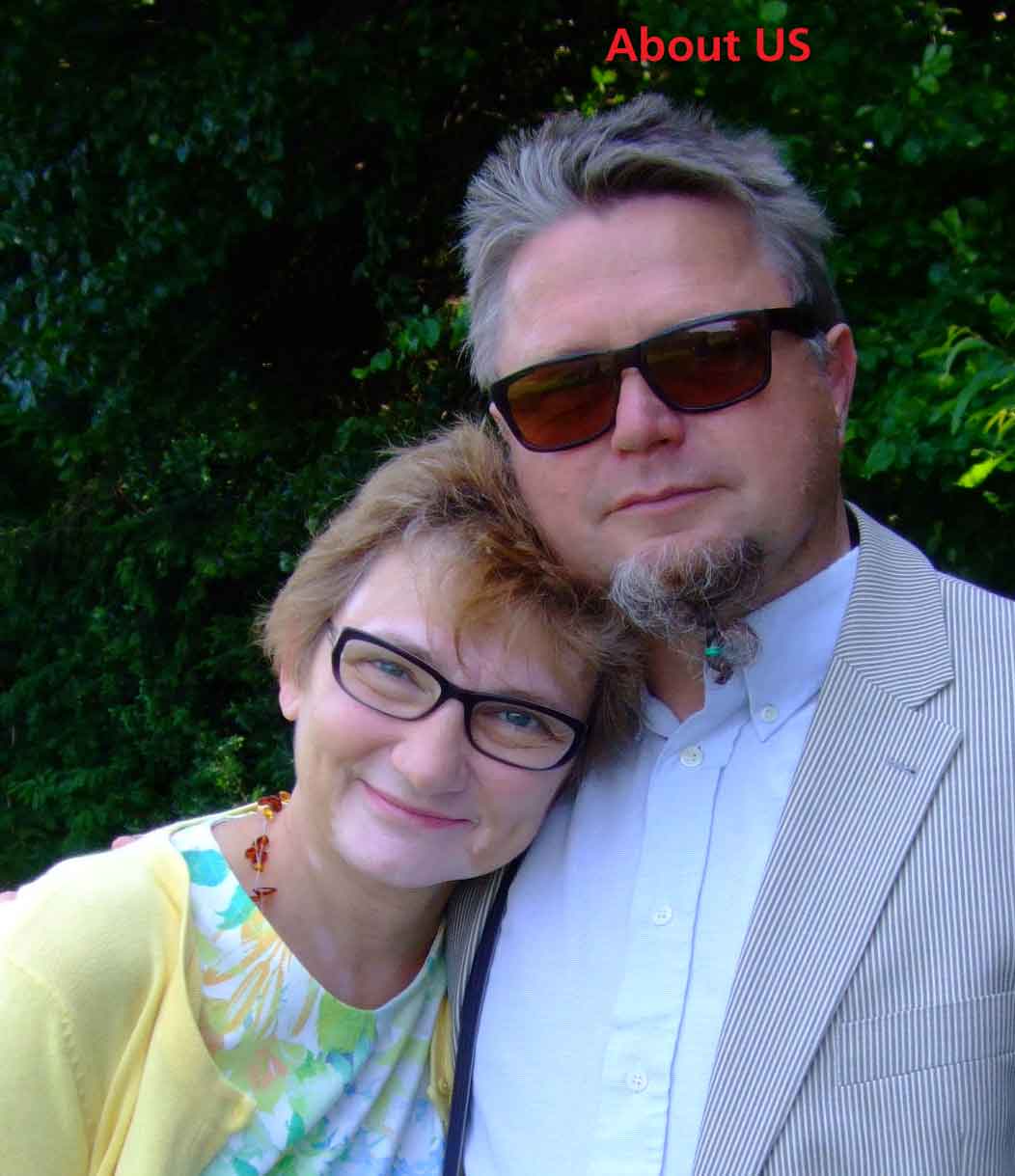 Dietmar & Odile
Wenn 2 kreative Köpfe sich finden entsteht was Großes. Odile hat die Vision, Kunst, Wissenschaft und Technologie gehören zusammen. Sie ist Co Gründerin des "Art, Science und Technology Institute", des Holography Museum Washington DC und der Firma Syn4D.
Dietmar Öhlmann, MA (RCA), BA hons, hat Naturwissenschaften, Kunst und Medien studiert und ist der kreative Kopf im Team.
Gemeinsam entwickelten die beiden eine Vielzahl von Projekten und Auftragsarbeiten. Sie waren in Paris, Washington DC, London und Braunschweig unterwegs. Jetzt sind sie and der deutsch-französische Grenze zwischen dem Elsas und dem Schwarzwald.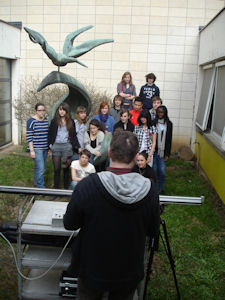 Weiterbildung
Wir teilen unser Wissen gerne mit anderen Menschen. Ob Schulklassen, Universitäten oder Weiterbildungsmaßnahmen in Firmen und Einrichtungen. Informieren Sie sich über unsere Auswahl von Programmen.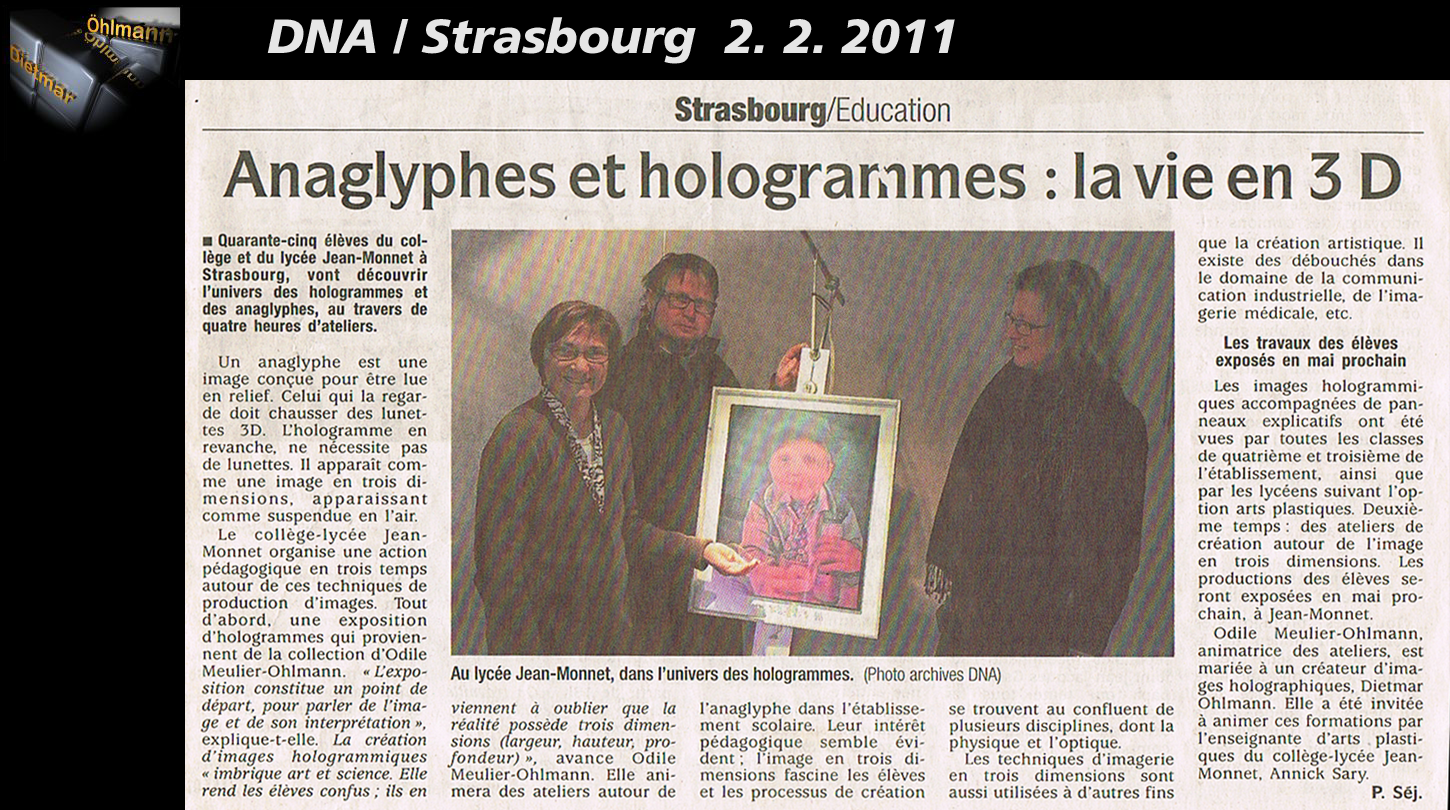 Öffentlichkeit
Unsere Aktionen begeisterten Kunden, Gäste und die Presse.
Wir haben hier für Sie eine Liste von Projekten, Ausstellungen und Puplikationen angefertigt.
---
We help you with your Project .
Contact us .
info@syn4D.com
wie ausgefallen auch immer ihre Ideen sind, wir können ihnen helfen. Hier rechts sehen Sie das Model vom Phaeno, entworfen von Zaha Haddid, welches die Wolfsburger Bürger liebvoll "Raumschiff" nennen..
---
Do you mean Future?
Yes we have something for You .
Lassen sie sich überaschen, was Heutzutage alles möglich ist.
---
Portfolio
...eine Auswahl unserer Projekte
Projekte - Ausstellungen - Pressetexte:
2018 "Ortenauer Impressionen," painting by Dietmar Öhlmann, Kunst im Areal Offenburg, 2.- 9. Dezember
2018 "Ortenauer Impressionen," painting by Dietmar Öhlmann & crafts by Odile Meulien, 1.- 2. Dezember, Avis aux artistes, Pavillion Joséphine, Strasbourg
2018 "Heilung – back to life," Hologram and painting by Dietmar Öhlmann, City Museum Aveiro, Portugal from 25 june to 30 september
2017 "car pong," kehl Auenheim 10th Anniversary Riverside Ortenau am 8.7.
2017-18 "Schwarzwälder Originale," Ausstellung im Badischen Kunstverein Karlsruhe
2016 "Lineage, Bilder einer Reise ins Ich". Materializing on paper the multiples level of inner nets and dreams, by DÖ, Exhibition by OM in Praxis Anneliese Tschenett, Roschein, France
2011 "Il faut voir pour le croire", Exhibition and training Groupe Scolaire Jean Monet, sponsor DRAC et FRAC, Strasbourg ,France Discover the art, science and techniques of 3D visualisations, experiment new perceptions, and produce 3D images.
2011 "L'univers de la réalité virtuelle avec et sans lunettes" Facultés des sciences Semlalia, Université Cadi Ayyad , Marrakech, Maroc. When new 3D media technologies offer a palette of possibilities . Advantages and constraint of the different variations in regards of teaching programs.
2011 " Les images en 3D" FMJC, Lautenbourg, France. Teaching program How to read an image, what wedo we see and do not see, and practical creation of 3D images on the local historical environment.
2011 " Projets Hologrammes, art et science" The pupils present their 3D works and explain their experience to other pupils in a forum of science, Exposcience, Geispolsheim, France
2011 " Les images en 3D" FMJC, Lautenbourg, France. Teaching program and exhibition "How to read an image, what do we see and do not see " with practical creation of 3D images about the local historical environment.
2011 "Video Sculpture" with 3-D Glasses free Panels and Cinema 4D Illustration, e.g. for DLR at the f-Cell Stuttgart
2013"Video Sculpture" with 3-D Glasses free Panels and Cinema 4D Illustration, e.g. for DLR at the Airport Stuttgart
2005 "Micro Hologram" Inside a holographic dot; hologram and nanoscopy of a hologram, an installation which shakes the view, and questions the mind, West Photonics, San Jose California, and Canadian presentations in Montreal.
2005 "Winner of Innovation Award", Projekt Region Braunschweig 2005, Numerous exhibitions and presentations in Braunschweiger Land and surroundings.
2006 Synthetische Hologramme, eine neue Generation von Bildmedien, Braunschweig, Goslar, Hildesheim etc.
2007 "Hologramme im Phaeno", Special exhibition from first holograms to new generation of digital synfogrammes and especailly the famous work "Phaeno" created by D Öhlmann a real ………. Wolfsburg , ref:"Ingeborg Reichle, Steffen Siegle, Masslose Bilder, Visuelle Assthetik der Transgression" Dr. Nicole Stöcklmayr
2007 Wissenschaft trifft Rock `n Roll - Videoclip-Videokunst - MTV und Viva, Eve Champagne, Aktion "Stadt der Wissenschaft 2007 Braunschweig", Dietmar Öhlmann und Odile Meulien Öhlmann im Roten Korsar. Creation of a 7 secondes video in 4D of a cabaret band.
2007 Frühlingsgefühle im E.Werk Osterwieck,Harz, Körper in Raum und Zeit – Aquarelle, None-Hologram- und 3D-Video-Objekte, Germany
2007 "L'autre Perspective… en 3D", stereo, anaglyphe, lenticular, hologramme, synfogramme, and more, Centre Culturel, Niedebronne les Bains, France.
2007 "Philiber" and "IAV" synfogrammes " Fascination Light EU", optics, light, digital world and future visualization, Bruxel
2007 Synfogramme im Kanzleramt (DLR zeigt gemeinsame Arbeiten)
2007 Synfogramme in Detroit, USA, mit IAV Gifhorn-North American International Auto Show (NAIAS)
2007 "ZeitwildnisHarz, Synfogramme in Torfhaus" Digital hologram created with a one year series of photos, shows the 4 seasons of the nature in one single picture, Nationalpark Hartz.
2008 DGS Kongress in Bautzen, Germany. Exhibition and seminar, from the traditional 3D stereoscopic techniques to the new digital holographic recording, Parallel and differences.
2008 Braunschweiger Kulturnacht, Bildende Kunst, Synfogramme-Bilder aus Zeit und Licht, Musik und mehr.
2008 Sonderausstellung 3D Kunst, Mittelstands- und Wirtschaftsvereinigung, organisiert von der CDU Braunschweig
2008 Synfogramme for Voith Talco in Salzgitter, Illustrationen des Talgo Express
2009 "Video Sculpture" with 3-D Glasses free Panels and Cinema 4D Illustration, e.g. for DLR at the Airport Stuttgart, Hannover Messe